10th Annual Lafayette Health Awareness Forum presents:
The Power of Music on Emotion and Health – Ten years of the Lafayette Health Forum
Guest Speakers:
Lee Bartel, PhD, Professor and Associate Dean – Research, Acting Director of Music and Health Research Collaboratory, Faculty of Music, University of Toronto
http://www.bartelcameronassoc.com/dr-lee-bartel.htm
Johanne Brodeur , PHD, MTA, Music Therapy Department Head, Victoria Conservatory of Music
http://vcm.bc.ca/johanne-brodeur/
Brian Christie, PHD, Director of the Neuroscience Graduate Program, University of Victoria
http://www.uvic.ca/medsci/people/faculty/christiebrian.php
Questions:
---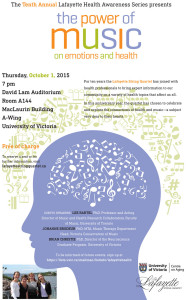 For ten years the Lafayette String Quartet has joined with health professionals to bring expert information to our community on various health topics which affect us all. In this anniversary year, the quartet has chosen to celebrate and explore the connections of health and music –a subject very dear to their hearts.
The Lafayette Health Awareness Series began in 2006 with a dialogue on the topic of breast cancer, which impacted the Lafayette String Quartet profoundly when one of its members was diagnosed and treated in 2001. The Lafayette Health Awareness Forum was created to provide expert and updated health information to the public in a free forum on various health topics.
With the quartet's experience that what affects one – eventually affects us all, it was their wish in their 20th anniversary year (2006) to offer some tangible way to share with the community their gratitude for this universal connection. The Lafayette Health Awareness Forum brings this interconnection to our local community and provides the opportunity for specialists, health professionals and the general public to meet and dialogue on important health topics.
A yearly evening event, the forum takes place at the University of Victoria, held on a Thursday evening in the early fall.
To stay informed of future health forum events you can subscribe to our mailing list at https://lists.uvic.ca/mailman/listinfo/lafayettehealth