Our Vital Brain

Being mindful about optimal health
Join the Lafayette String Quartet as this year's health forum travels to the deeper levels of our brain. Learn what is new in brain health and how mindfulness and music making are helping to positively impact our overall health. Three presenters will share their expertise as well as lead us through some mindfulness exercises. Included will be time for Q&A. Come at 6:15 for refreshments and an interactive student research poster competition in the lobby.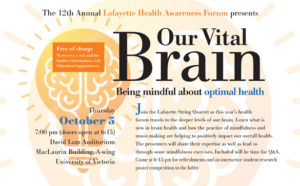 SPEAKERS
Alexandre Henri-Bhargava, MD, CM, FRCPC Clinical Assistant Professor of Medicine (Neurology), UBC; Neurologist, Island Health, Victoria, BC
Mark Sherman, MDCM, CCFP; Executive Director BC Association for Living Mindfully and Art of Living Mindfully Facilitator
Erin Guinup, Conductor of Tacoma Refugee Choir, Host of Why We Sing podcast, Voice Teacher, Soprano, Tacoma, Washington
Thursday, October 5th, 2017Â  7:00 PM
David Lam Auditorium, University of Victoria
---
For eleven years the Lafayette String Quartet has joined with health professionals to bring expert information to our community on various health topics which affect us all.
The Lafayette Health Awareness Series began in 2006 with a dialogue on the topic of breast cancer, which impacted the Lafayette String Quartet profoundly when one of its members was diagnosed and treated in 2001. The Lafayette Health Awareness Forum was created to provide expert and updated health information to the public in a free forum on various health topics.
With the quartet's experience that what affects one – eventually affects us all, it was their wish in their 20th anniversary year (2006) to offer some tangible way to share with the community their gratitude for this universal connection. The Lafayette Health Awareness Forum brings this interconnection to our local community and provides the opportunity for specialists, health professionals and the general public to meet and dialogue on important health topics.
---
A yearly evening event, the forum takes place at the University of Victoria, held on a Thursday evening in the early fall.
To stay informed of future health forum events you can subscribe to our mailing list at https://lists.uvic.ca/mailman/listinfo/lafayettehealth